Goncharenko Center
01

Development of a website for an educational center

02

Creating a dashboard with a task manager and cost accounting

03

Optimization of remote personnel control
Cooperation period:
- present time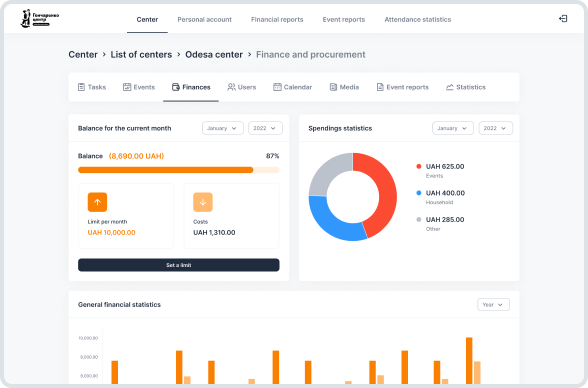 About company
"Goncharenko Center" is a cultural and educational project aimed at the development of the population anywhere in a country. Educational spaces of the Goncharenko Center are located in small towns of the country. People of any age can study there. In addition, the center offers online webinars for teachers.
Problem
Representatives of the Goncharenko Center project approached us with the need to optimize the control of personnel work, as well as to simplify the exchange of tasks, both within the office and between the center and branches. The management had no possibility to be constantly present in the branches to carry out control due to the remote location of the offices. It was necessary to create a system that would allow to do this without being tied to the workplace.
Solution
After discussing the details and studying the client's request in detail, we suggested developing a solution that would greatly simplify interaction between branches and help correctly organize personnel control.
Dashboard with a task manager and cost accounting
We have created a single platform for sharing tasks between employees. Now the center has a functional tool that allows you to track the status of each branch (open/closed, alarm on/off, cleaning was carried out/not carried out), display statistics on expenses, set tasks and monitor their implementation.
Company website
Developed a website to demonstrate the company's activities on the network. Implemented a convenient interface for easy presentation of information.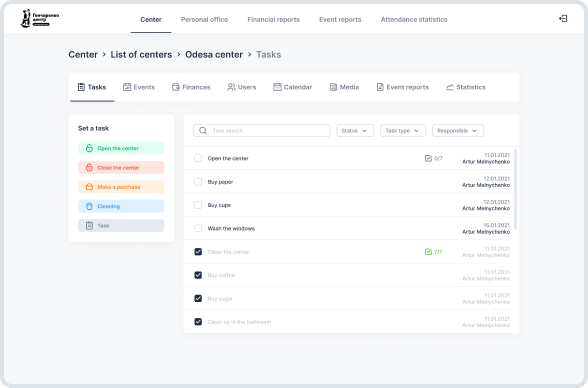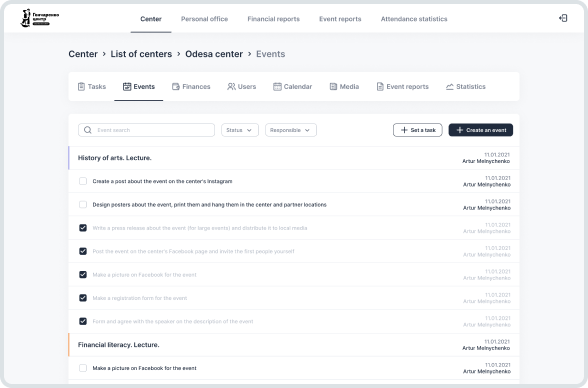 Result
Thanks to the developed solution, our customer solved the main problem. Now, in order to track the work of each branch, the management does not need to go to the site.
All information is available in real time, and task notifications come via email and Telegram bot.
In addition, communication between the center's employees has been greatly simplified due to the structuring of information and clear task setting.
Keep in touch with the IT solutions made by experts
Any questions?
Message us right now.
Fill out and submit the form.
Our team will conduct an individual audit, after which we will determine what individual tools you need to solve your venture's problems.