L2oops
01

Creating and maintaining a website for the Linage II aggregator of server announcements

02

Protecting the site from DDoS attacks

03

Building a stable system to handle high loads
Cooperation period:
- present time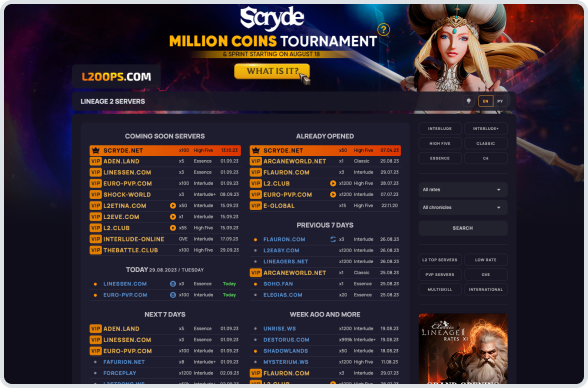 About company
L2oops is an aggregator of announcements of Lineage II online game servers of all ranks and chronicles. On the platform are placed only verified, quality projects with key information for users. You can find servers of different concepts. List of servers is constantly supplemented and updated.
Problem
L2oops approached us for help in maintaining the site. At that time they already had a working site, but it needed constant revision. It was necessary to make changes and transform the site into a convenient and accessible platform. Since the beginning of our cooperation there was a high growth of new users, the aggregator's site was subjected to systematic DDoS-attacks from competitors. It was decided to completely rewrite the project and protect it from attacks.
Solution
The L2oops aggregator site is still supported by Rexit. We carefully analyze the indicators, develop additional functionality, and have implemented several effective solutions during our cooperation.
Website creation
We have built a stable site that withstands even critical loads due to the high flow of visitors.
Element caching
To protect the platform from DDoS attacks, we used caching of each element of the site.
Additionally
We connected telegram-bot, created a Personal Cabinet for users, and added the ability to pay online on the site.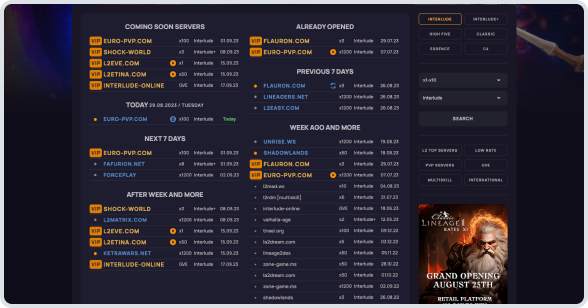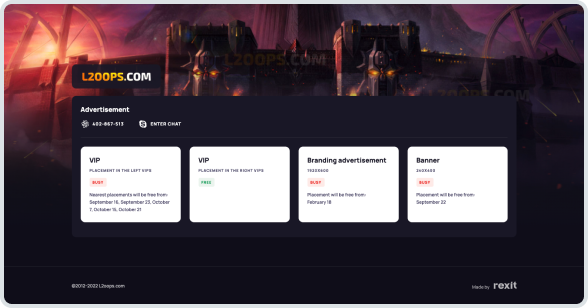 Result
As of today, the site is in our support. We have solved all the problems of the previous version. The system functions correctly, withstands high loads and is reliably protected from DDoS attacks.
Keep in touch with the IT solutions made by experts
Any questions?
Message us right now.
Fill out and submit the form.
Our team will conduct an individual audit, after which we will determine what individual tools you need to solve your venture's problems.