Lukro
01

Corporate website development

02

Development of personal account with 1C integration

03

Implementation of file storage for employees and customers
Cooperation period:
- present time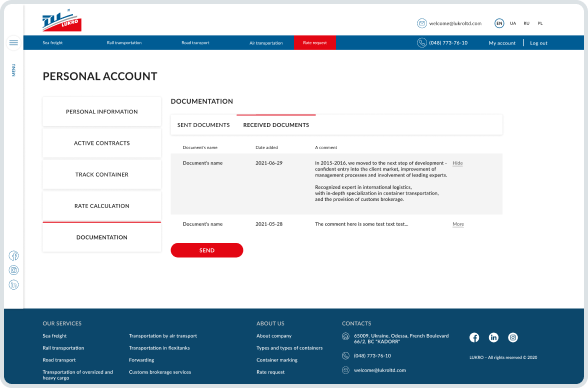 About company
"Lukro" is a large Ukrainian company that provides services for the organization of international transportation of containerized cargo. Among the main services: sea, rail, road and air transportation. In 2020 the company took 3rd place in the Forwarding Agent of the Year nomination, moreover Lukro was awarded for the largest transportation volume increase among the leading companies in its industry.
Problem
Representatives of Lukro turned to Rexit to solve the problem of poor communication between customers and managers. It was necessary to improve service and offer the company's clients a convenient format of interaction.
Solution
We carefully studied the problem of the customer and the specifics of the company, and then implemented the client's request, introducing new tools into the company.
Website with a personal account and 1C integration
We have developed a corporate website with a personal account for customers who are registered in the system by Lukro managers through 1C.
File storage for data
For convenient data storage, we have implemented a file storage that can be used by both clients and employees.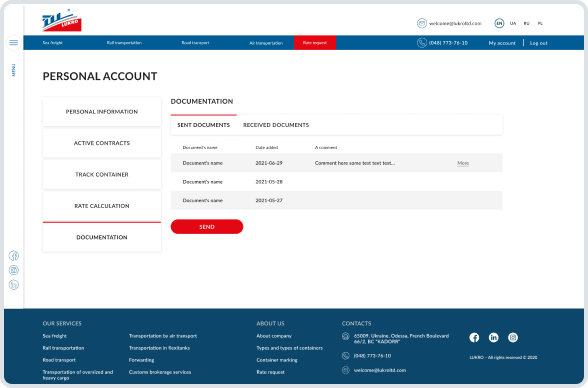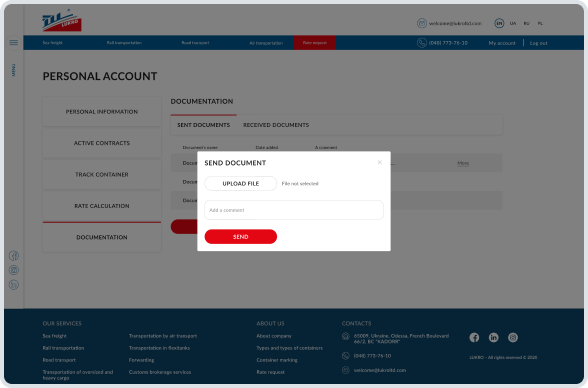 Result
With the introduction of new tools, we have achieved the main goal - greatly simplified and improved communication between customers and managers.
To work in the cabinet, Lukro employees register clients through 1C, after which the system creates a user and sends a login link to the client's email. In the personal office the user sees all the necessary information, and convenient file storage greatly simplifies document flow.
Keep in touch with the IT solutions made by experts
Any questions?
Message us right now.
Fill out and submit the form.
Our team will conduct an individual audit, after which we will determine what individual tools you need to solve your venture's problems.